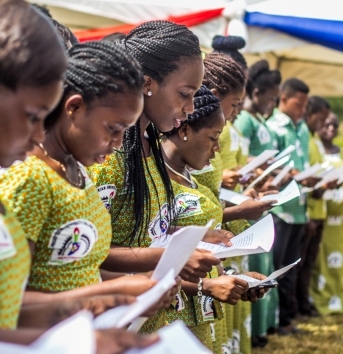 The President of Presbyterian University College, Ghana Rev. Prof. Emmanuel Adow Obeng has cautioned fresh men and women admitted into the University for the 2016/ 2017 academic year against sexual harassment and indecent dressing.
"The university does not condone sexual harassment of any kind on our campuses. You are also expected to dress with decorum and decency."
Rev. Prof. Emmanuel Adow Obeng said this when he matriculated 445 students admitted into the various programmes and campuses for the 2016/2017 academic year. Out of this figure, 244 are males and 201 are females.
The President commended the students for choosing Presbyterian University College, Ghana and promised them that they are in for an exciting experience. However, he admonished that the kind of experience will depend on the attitudes and the choices that they make whilst at the University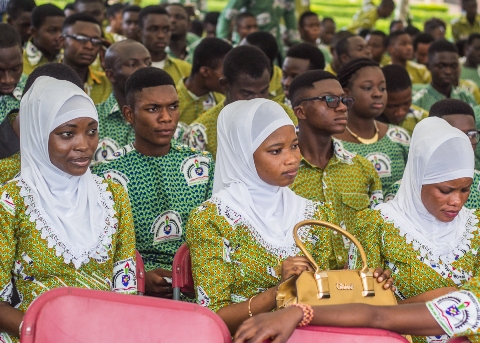 "The students in this University have set high standards of performance in external examinations, public competitions and quizzes that you cannot bring the standards down."
"The aim of this University is to train students to acquire certain skills and aptitudes that will change how they think and act, that will lead to self-control, creativity, and innovation," the President said.
Rev. Prof. Emmanuel Adow Obeng assured parents and guardians of the students that the University will not only impart book knowledge to their wards, but also knowledge that bestows on the individual, the desire to live out Christian ethics.
He believes this will surely contribute immensely in putting their wards in pole positions for the future service and leadership to the motherland.  
Appeal to NAB
Expressing concern about the dwindling enrolment of students in private universities in Ghana, the President of PUCG implored the National Accreditation Board (NAB), under the auspices of their mentor universities to allow private universities to organise access courses for SHS students with grade D7 in Mathematics and English so that they can be admitted into their chosen programmes when they pass the access courses.
He posited that this will reduce the time such students spend in registering and re-writing the WASSCE, some of whom fail after several attempts.
Rev. Prof. Emmanuel Adow Obeng disclosed that the University will soon roll out programmes such as Midwifery, Optometry and Hospital Management to enable the University attract more students.
In acknowledging the presence of the traditional leaders, the President called for the support of the chiefs and the people of Agogo, Abetifi, and Akropong stating that "Our progress is linked to your progress."
"We will continue to work towards achieving our goals as an institution but we need the support of our friends and all those interested in quality university education," the president reiterated.
Read the full speech here