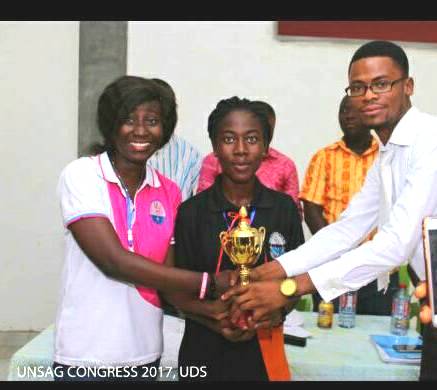 The Department of Nursing of Presbyterian University College, Ghana (PUCG) has won the University Nursing Students' Association of Ghana (UNSAG) national debate during the Association's Annual Delegates Conference held at the University of Development Studies (UDS) in Tamale.
This year's UNSAG competition was held from 9th to 13th November, 2017 at UDS, Tamale Campus. Fourteen (14) Universities (Public and Private) debated on the topic "Alternative Medicines should be treated at par with Western medicines."
The 14 competing Universities were divided into two zones – Northern and Southern – with the top three Universities in each zone qualifying for the grand finale.
The qualifiers from the Southern Zone were Pentecost University College (PUC), University of Cape Cost (UCC) and Valley View University (VVU) whilst Presbyterian University College Ghana (PUCG), University of Development Studies (UDS) and Kwame Nkrumah University of Science and Technology (KNUST) represented the Northern zone.
PUCG won the debate with 82.16 points followed by UDS with 81.16 points, KNUST had 76.3 points, PUC got 75.83 points, UCC obtained 74.6 points and VVU accumulating 53.5 points.
This is the second time that PUCG has won the UNSAG national competition which started in 2015. PUCG won the maiden edition in 2015.
The Presbyterian University College, Ghana was represented by Benedicta Nhyira Ofosuwaa, a Level 200 student and Emmanuella Duker of Level 100.