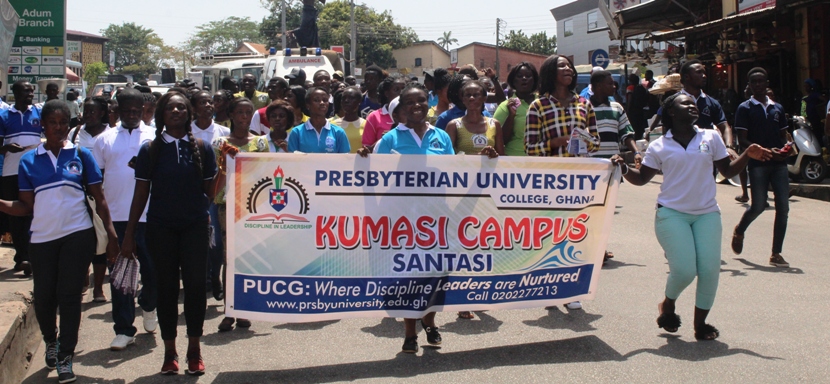 The Management and Students Representative Council of the Presbyterian University College, Ghana (PUCG) Kumasi Campus has organized a float through the Central Business District of Kumasi to publicise the campus and also interact with the citizenry about education at PUCG.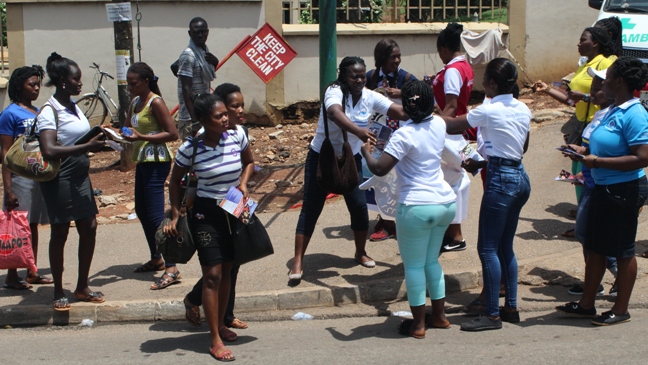 The Kumasi Campus which was set up about 4 years ago is currently the fastest growing campus of PUCG. The University currently operates five (5) Campuses across the country – Tema, Akuapem, Okwahu, Asante Akyem and Kumasi.
The Kumasi Campus runs programmes in B.Sc. Administration, BSc. Agribusiness, B.Sc. Mathematics and a Master of Education in Educational Studies.
The float aimed at creating opportunity for the students of the University to have face to face interaction with the people within the Kumasi community about opportunities at the University as students.
Students and staff of the Kumasi campus were joined by their colleagues from the Faculty of Health and Medical Sciences, Asante Akyem Campus for the float. Amid brass band music, the students danced with excitement while engaging everyone they came across.
The Assistant Registrar in charge of the Kumasi Campus, Mr. Godlove Adjei expressed satisfaction about the impact of the float and reiterated that the Kumasi campus will continue to engage the Kumasi community at various levels in fulfillment of the University's vision of providing leadership for socio-economic development of society at large.