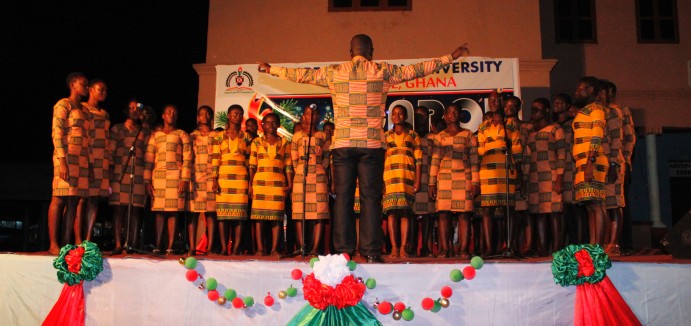 The Presbyterian University College, Ghana (PUCG) on Sunday evening, thrilled the people of Abetifi with Choral songs when it held its 2017 Carol Concert dubbed "Christmas on the Mountain."
Instead of having this annual event at the University Premises as it has been in the past, this year's Carol Concert became the first to be held at Central business area of the  Abetifi township.
The concert was sent outside to the community in which the University is located as a sequel to the success of the Peace Choral Concert which was organised last year to preach peace before the 2016 general elections.
As such, the Management of PUCG thought of the need to extend the celebration of Christ's birth to the entire Abetifi community to foster closer relationship with the people of Abetifi while they join the University in celebrating the birth of Jesus Christ.
The patrons of the concert were elated with soothing and heartfelt songs about Christ's birth from the University Choir and invited choirs namely, the Abetifi Presbyterian College of Education Choir, the Abetifi Presbyterian Senior High School Choir, the Abetifi Technical Institute Choir and the St Dominic's Senior High School Choir.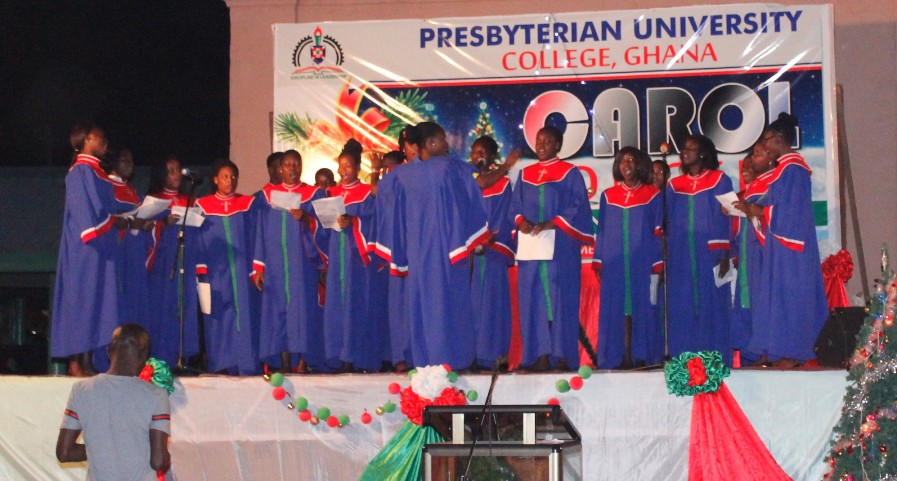 Speaking on the theme "Let the earth hear: the saviour is born" the Nkwatia District Minister  of the Presbyterian Church of Ghana (PCG), Rev. Enoch Obuobi, exhorted patrons to embrace Christ as the Lord and personal Saviour of their Lord and to live life that reflects the life of Christ whose birth is remembered.
Among the key personalities who graced the occasion were the chairperson of the Local Council of Churches, Rev. Anim Addo; the Queen mother of Abetifi whose indulgence was key to the programme as she took to reading one of the lesson readings for the programme and the Chairperson of Kwahu Presbytery, Rev. G.K. Acheampong who led an intercessory prayer for the people of Hweehwee and its environs (following the conflict they have with Fulanis), Abetifiman and Ghana.
In his closing remarks, the President of the University, Rev. Prof. Emmanuel Addow-Obeng who was swept off his feet with the songs from the University Choir, expressed his profound appreciation to the Chief and Queen Mother of Abetifi and the entire town folks for embracing the University and this programme as one of their own.
He indicated the rapturous mood of the patrons alone was an indication that the programme has met its objective and was happy that this idea has come to fruition.
Interaction with some members of the invited choirs, some students and some town folks who could not hide their joy confirmed what the President said.
One of the committee members who planned the programme, Mr Ako-Gyima was grateful to God that the programme became a success!